This is not my normal entry. This will actually be an ongoing project to determine what it is players are looking for in a game. What I intend to do is poll players here at MMORPG.com, using the forums polling system, to ask some very simple, and straight forward questions about the type of game elements, and mechanics, they'd like to see in future games. Once a week I'll post a poll asking a question(with a link from this entry to the newest poll). When the week is up I'll post the results to this entry. Eventually, and hopefully, we might be able to form a basic outline of what some MMORPG players are looking for in a game.
What is Project MMORPG 101. This genre is stagnating in my opinion. In the last few years this genre has seen very little innovation or creativity. Yes there have been some attempts to try something new, for instance "All Points Bulletin", "Pirates of the Burning Sea", and a few indie game design houses producing some interesting games(their biggest problem though is funding and talent). All-in-all though, the games that have been released in the last few years are almost all identical in one way or another. From EQ to Rift, and soon to be released games like Tera and Guild Wars 2, they all seem to share a basic paradigm - that of a theme park based game.
Some of the games like Lord of the Rings Online, Dungeons and Dragons, Warhammer, etc, etc, all games that have followed that paradigm have not all been great successes., in that many that have recently been released are struggling to maintain subscribers. Some have had to go from pay to play subscription base to a free to play subscription base(with RMT) to keep them up and running. This in itself is a very telling sign that these games are not retaining their customers after the game is launched. Why? Why are these games not retaining their customers or drawing them in months after they have launched?
My guess is that these game design houses have lost their way. Let's face it, ever since World of Warcraft came onto the market, every game since has used it as a blueprint of a sorts to design many games that followed. Yes, WoW did copy many elements from other games(like EQ), and other games later as it aged. Let's also face the fact that WoW is a freak of marketing nature. It was released at just the right moment, with the right type of game play that many gamers were looking for. On top of that it was easy to learn to play, and could run smoothly on most computers back in the day. These were contributing factors on WoW's success and growth. But this has also caused to many other game companies to try to make the next WoW. For us gamers that play MMORPG's it has been a mixed bag of good and bad games.
Maybe this project will become a tool for game designers to look at to get some ideals that will help develop the future MMORPG's that gamers will enjoy playing. I welcome other game websites to participate in this project. To partake of this project, feel free to post a link to this article. That way we can get a larger number of players contributing their input.
Poll 1) What type of game best suits your play style?
1) Theme Park based game. Theme Park being a game like World of Warcraft, Aion, Rift - for example. These games have few, if any, sandbox game play elements or mechanics. No housing, no guild halls, may or may not have crafting, may or may not have player controlled economy, simple character customization(depends on game), lots of pre-scripted quest, static worlds, mostly class based character progression, end game consist of running raids and pvp battlegrounds, very gear oriented.
2) Hybrid Theme Park/Sandbox. Being that it combines aspects of both a theme park and sandbox. Example would be something similar to Star Wars Galaxies, Dark Age of Camelot, in their current forms.
3) Sandbox. This would be a game like Ultima Online or EVE. Has player owned housing(ships, stations for EVE), guild halls, player controlled vendors, player controlled territory, player controlled economy, robust and often deep crafting element, resource gathering, lots of freedom for character customization, dynamic world, few pre-scripted quest, player made content, mostly skill based character progression, no real end game(end game is what you make of the game).
4) Other - If you choose other, please explain in some detail what you'd like to see.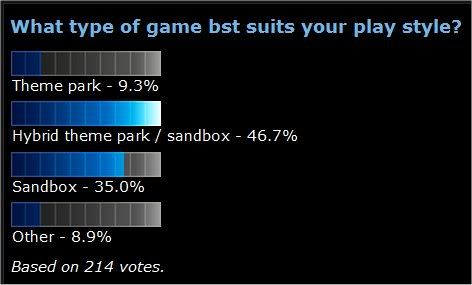 Poll Question Here <<< clicky
*******************************************************************************
Poll 2) What genre would you like to see an MMORPG based on?
1) Fantasy (Elves, Dwarves, Dragons, Princesses, Swords and Sorcery)
2) Sci-Fi (Space, Spaceships, Aliens, Other Planets, laser guns, futuristic gadgets)
3) Western (Cowboys, Indians, Mountainmen, Goldrush, Train Robbers, Marshalls, Banditos)
4) Historical (Pre-historic, medieval europe, Victorian Age, ancient China, medieval Japan)
5) Post Apocalyptic (after mankind almost does themselves in)
6) Sports (football, baseball, basketball, car racing)
7) Steampunk (best you look this up - google it)
8) Cyberpunk (best you look this up as well - google it)
9) Other - If you choose other please explain what "other" is in comment below.
To vote click here <<< clicky
************************************************************************************
Poll Question 3) Which system of character progression would you prefer?
1) Class Based System --- Level Capped
2) Skill Based System --- Progression Capped
3) Class + Skill Based System ---Level Capped
4) Classed Based System --- Not Level Capped
5) Skill Based System --- Progression Not Capped
6) Class + Skill Based System ---Level Not Capped
7) Other - If other, pleased describe what system you'd like to see in a comment below.
To vote click here <<< clicky