Long ago in a verse far, far away, in another time and place gamers were treated to the words of an MMORPG producer and they were simply, "I think it'll knock you socks off." Only to be disappointed in the end. Ever since that day I have looked for an MMORPG that would really knock my socks off. Unfortunately none have done so, though many have come close, such as games like Planetside, Dark Age of Camelot, Star Wars Galaxies(pre-NGE), but none have really grabbed me the way I wished they would have.
So in my usual not so casual and rambling kinda of way I will describe to you my dream MMORPG, my perfect virtual game world - unlike anything you ever seen - ever!
Now I will admit I've done my share of bitching, moaning and whining on forums, with the best of the best jaded gamers, for years about the various games as I played them, and many people who have read my rantings on forums from here to the Vault Network over the years know how passionate I am about my MMORPG's. I am, to put a bluntly, an MMORPG fangirl from hell. I can rant and rave like no other. Seriously....I love these games to the point that I often daydream about making my own...let's face it, name me one gamer of this genre that hasn't dreamt of making their own MMORPG - just to show the so called experts how it's done.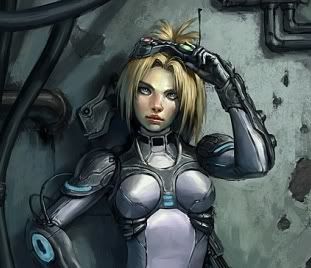 God how I wish I could raise the capitol to make my perfect MMORPG. Oh and it would be perfect! I know it would...because I would be in charge and I'd make sure that my game truly did launch with everything I design into it. What kind of game you ask. Hang on...because I am going to tell you what my dream MMORPG would be like.
First let me describe the setting. It isn't fantasy, though magic is in it. It would have swords.. It would have firearms. It would have different species, though humans are the primary species, they are not alone. It would have ships. Starships to be exact or spaceships if that is your preferable tag for such a vessel. No not the kind you see in Star Trek, but they would be starships, just different. There would be planets one could visit and of course space stations and what not. See where I am going with this....it would be set in the future and be basically a open ended, sandbox, sci-fi space opera MMORPG. I will describe the various aspects of this game in detail as I go through and describe my dream MMORPG...just bare with me...I have a lot to say.
Second it would have true twitch, full blown FPS, type combat. None of this spamming various hotkeys or mashing buttons in a certain sequence to perform X special move or shot. I am so sick of these games that come out and tout how their combat system is unique and special and how much fun it is to play when in reality they are just rehashes upon rehashes of games that came before them. Nope...not my dream MMORPG. The ranged combat would be like playing Battlefield 2. Yep, straight and simple. I like BF2's ranged combat system...that is perfect for my dream game. As for melee. Yep, got an answer for that as well. There was this single player game that was recently released called Mount & Blade. That melee combat system from that game would "almost" be perfect for my dream MMORPG. I would however change a few things, like adding a few extra forms of attack, plus it would have an unarmed combat system derived using the Mount & Blade melee combat system. Melee combat would be kung fu in nature. You know the proverbial kicks, punches and what not of that style of martial arts and the animations...the animations would be fluid - you'd think you were watching an anime. Yep the combat in my MMORPG would be the best ever.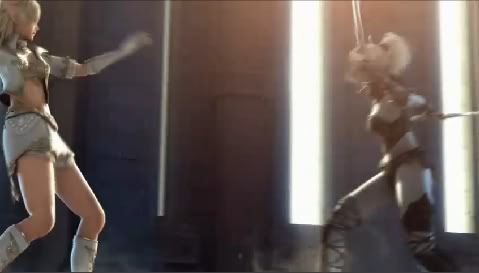 Third, it would have a very unique art style to it. It would be a 3D game, but look almost like a Japanese
anime, but OMG...the graphics would be awesome bar none. I would spare no expense on how this game looked. If you've ever seen the cinematics of the game Lineage II, well that is the kind of graphics detail and richness my game would have, but with an anime flair to it.
From the clothing and armor to the very hairs of the characters, it would be unmatched in any game to date. Clothing and armor would not be painted onto your character/avatar like a lot of other games. Nope. Not in my game. Each piece of clothing, armor, jewelry, even the very hair on top of your characters head would behave like it does in the real world. Real physics would be applied to this game so you'd see your characters hair move if it is standing in the wind, or get wet if it is in the rain. Also no clipping here. You know where cloths seem to not fit properly and or a shield slices through the back of your avatars head when you place a shield on their back. Nope...not in my game.

Am I just dreaming? Well of course I am silly, this is my dream MMORPG, but you know what, the tech is coming, and it won't be to long before this kind of graphics and physics can be applied to online games. Every few months or so the vid cards with their gpus and the computers with their cpus exponentially get more and more powerful. Less then 10 years ago we had 2D scroller games that were the rage. Then came blocky 3D virtual worlds, and today some single player games we see on consoles and such are all ready showing what can be done with the new vid cards with their ultra fast gpu's capable of millions upon millions of calculations a second - look at games like Half-Life. So very soon I believe we'll be seeing vid cards that are not 2 times faster or 10 times faster, but thousands of times faster than anything we've seen on the market to date. Which will allow for my dream MMORPG's type of graphics to become a reality.
Perfect.
Next - Part 2 - My Dream MMORPG - "It'll knock your socks off and blow your mind."