There's not really enough time left on the clock of Closed Beta 3 left to do anything meaningful but finish out the newb zone, so I did and thought I'd spam you with some screens and observations.
The inital questing zone pretty much encompassing levels 1-10 is fairly expansive, not to mention comprehensive in its introduction to the TERA's interface. The game does a good job handwalking you through the various aspects of the mehanics while slowly ratcheting up the difficulty. Graphically, it was 100% win but you knew that going in.
Mob encounters seemed to rely heavily on, well, mobs. Literally. These normally consisted of a central leader type flanked by trash minions. By themselves, they are easily killed. Get pinned down and the damage can rack up quickly making the movment aspect of TERA absolutely critical. In away, it reminds me of Vindictus, but with more depth. That said, there's a faint sense that these group engagements are placed to artifically create the movement TERA needs to hang its action hat on.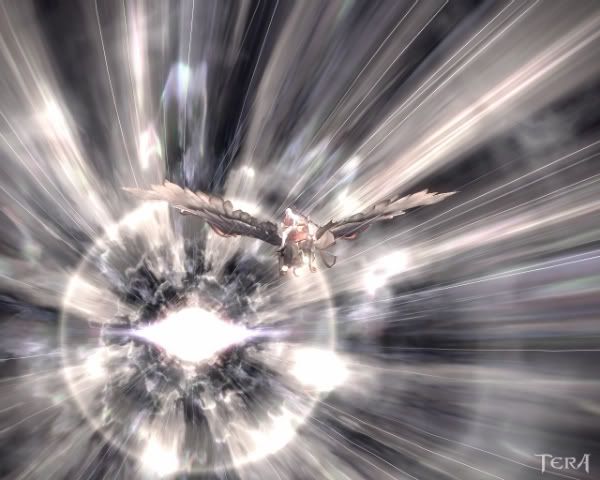 Some of the concerns from the first part did seem founded, however, specifically in the caster and buff catagories. While some of them are handled via cone effects and AoE effects, some spells feature 'lock-on' mechanics-- Press the hotkey once, lock. Press it a second time, release heal/buff on target. Uhg. I'll be honests and admit it's not the most elegant solution I was hoping for, but realistically one of the few you can institute in a perma-mouselook environment. Still, it feels like a crowbar thrown into an otherwise smooth system; all but promising to be a pain in the ass in high intensity environments. This is probably my biggest reservation concerning gameplay, which seems to inadvertantly punish caster classes through play mechanics.
I was continually surprised at just how large the beginners zone was, taking serveral hours to complete. Questing was nothing to write home about, however, leaning on a vast majority of 'kill x of y' missions and back and forth running. The story was at least compelling, making it somewhat more bareable in nature. Mobs were quite likeable and creative in design, also helping to offset the slitting of my own wrist in boredome.
I'm still on the fence, quite frankly. It has all the hallmarks of a potential winner, but is hardly without its pitfalls. The hardware cost of entry is going to hold some people back and TERA simply hasnt seen enough saturation advertisement to make it an immeditely recognizable name, let alone having a previous iteration like Starwars or Warcraft 3 to build name brand recognition off of. When paired with the 'action' MMO element of its gameplay, it may be a tougher sell than it has to be.
Regardless of the quirky combat or lack of pedigree, time and effort went into building TERA up and that alone at least deserves consideration. I'm nto quite convinced to go all in as an early adopter yet with the pre order, but I'm definitely interested. And watching.