The Advanced Nightmare Carnival represents a new set of challenges in the Nightmare Carnival theme. Available for players level 40 and up, these new mini-games are a fun way to earn some experience and prizes while working with your fellow players.
Similar to how the regular Nightmare Carnival works, the Advanced version has a series of mini-games that your party must defeat in order to earn a new type of game token, as well as experience. There are a total of four brand new mini games that parties will be faced with overcoming - Carnival Chess, Candle Cannons, Monster Hunting, and the Jumping Obstacle Course.
You can queue up for the ANC (Advanced Nightmare Carnival) like any other dungeon or event by using the auto-queue system (T key). Once your party enters the ANC, your first challenge will be the Nightmare Chess minigame.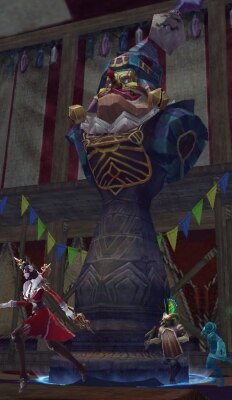 The objective of this game is to move the giant chess piece forward to the end of the track. An ogre nearby will spin a dice that will move the piece forward a certain number of squares. Various squares on the board are color coded. When landed upon, red squares move the piece back one space, yellow squares teleport the piece forward on the board, and blue squares earn your party a treasure chest containing bonus rewards.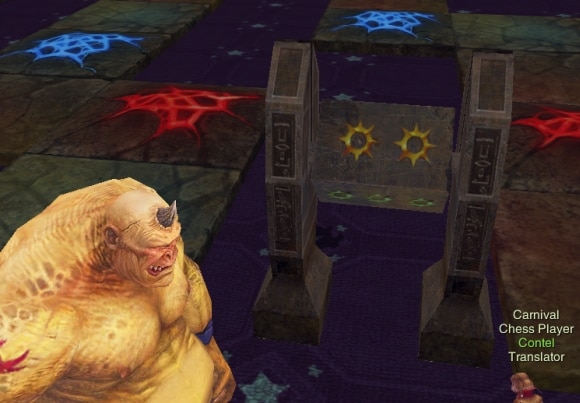 Every other dice spin, your party gets to determine the number of spaces the piece moves forward. A blue lightbox will appear near the ogre, and you'll have a short period of time to place as many party members as you want in the box. The number of party members in the box determines how many spaces you'll move the piece. The goal is to of course hit as many blue squares as possible, so coordinate with your group for full effect.
The next game is the Candle Cannon challenge. In this minigames, candles of three color types will spawn in a latticework in front of the two rows of cannons. party members can fire one cannon per round, which will destroy all of the candles in that row. Destroying red candles will earn your party 1 point, but blue candles will cause your party to lose 5 points. Yellow candles will double your final score - even if it is negative!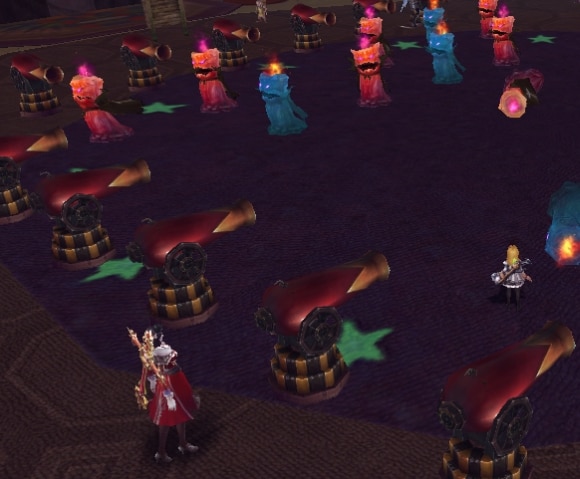 The objective is to kill as many red and yellow candles as possible while avoiding as many of the blue ones as you can. Your final reward is based on how your overall score, so make sure everyone knows to avoid the blue candles - and more importantly, can follow the directions given by the Carnival Attendant!
Your final reward for this challenge relies on your final point score, so make sure everyone knows which color of candle to avoid.
The third challenge your group will face is the Monster Hunting minigame. Within this room, numerous monsters will spawn. However, don't go all kill-crazy just yet, as the Carnival Worker NPC in the middle of the room will tell you which monster he wants you to kill - OR - which monster you SHOULDN'T kill. For example, one time he might say "kill all monsters named "YASA", at which point the group will look for monsters named "YASA" and kill them. Killing the incorrect monster will lose points for your party, so pay attention!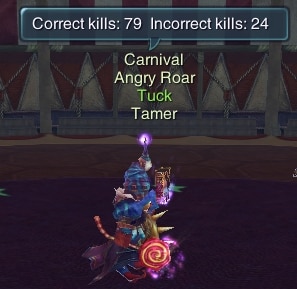 Your final challenge in ANC is a jumping-oriented obstacle course. Inside of this room is a long series of pillars, which vary in height. The goal is simple - jump from pillar to pillar to the final NPC as fast as possible. The quicker you make it to the end, the better your reward is. Find out whichever camera angle and strategy works best for you when making your jumps, and then hope that your mouse hand is steady!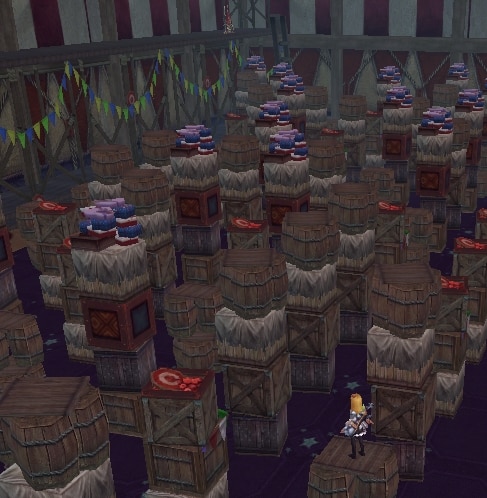 Even if you can't make it to the end for whatever reason, the final NPC will come down from his perch eventually and you'll be able to complete the run. Your reward won't be that great, but atleast you won't be trapped.
Overall at the end, you should have a good number of Carnival Coins as rewards for your completing the minigames. These coins can be spent on prize packages from the Porudock Token exchanger. Packs start at level 40 and work their way up in 10 level increments, so choose which one is best suited for you. Inside the packs are all sorts of cool things, from side-arm trinkets to consumable items and transformation potions. Interestingly enough, if the group your in does absolutely horribly, you can refrain from claiming your reward and instead wait for a better run to get your prize.
The ANC is definitely a step up from the regular Nightmare Carnival, in both teamwork and rewards. Check it out as soon as you hit level 40!