Do you crave PvP with no consequences other than a slightly humbled sense of pride?
Well we're introducing the perfect thing for you - a brand new PvP Arena called the Theater of Blood!
The Theater of Blood - Our Newest Daily Event!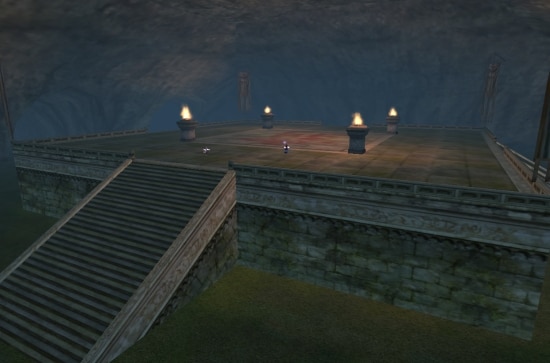 This new arena holds 150 players, from level 50-105, and through a combination of ability and luck you will be able to obtain some great prizes!
How to take part:
Step 1: Between 6:30 and 7:15 is the sign up period. Talk to the Herald of Blood (577, 633) in Archosaur , or any other major city. He'll always be near a Khatru Pup. Click "Quest Related" to learn about the event and sign up for it. If you don't want to miss any action, be sure to sign up before 7pm, as that's when the monsters will begin spawning.
Step 2: Talk to the nearby Khatru Pup (577, 633) to actually enter the instance.
Step 3: At 7:00pm, you will automatically enter the arena, and you may begin fighting! Monsters will spawn within a couple of minutes, and you'll want their drops!
How it works:
Monsters within this arena will be dropping various items. These items are as follows:
Heart of Blood: This will be the most common drop. Accumulate these and turn them into to the Atrium Bloodmerchant NPC or Manes NPC for prizes! But be careful, if you die, you will drop ALL of your Hearts of Blood, and other players will be free to snatch them up and use them as they please (if they themselves survive, of course).
Another interesting wrinkle to the Hearts of Blood is that, as you accumulate them, a glowing symbol will appear over your head, and this symbol will gradually increase in size and brightness as you continue to pick up more Hearts. This, obviously, makes you a more appealing target for other players, so be careful...
Note the glowing symbol of death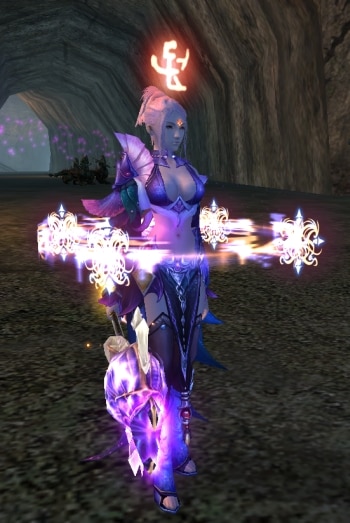 Horn of Blood: Similar to Hearts of Blood, except these won't drop when you die (thank goodness). Head over to the Atrium Overseer NPC to turn these in for prizes.
Totem of Blood: These items are a bit of a gamble - Picking them up immediately gives you a status effect, but there's no telling whether it will be helpful (for example increased health regen) or absolutely horrible (like putting you to sleep temporarily)... Pick up at your own risk.
Scrolls: These scrolls are spells that you can cast only while within the arena. Some will target yourself, like a Teleport spell, and some can be used to target other players, like the "Slow" debuff.
After 25 minutes of mayhem (7pm - 7:25pm), the monsters will no longer spawn, and you'll be teleported to the Manes NPC. Use this opportunity to turn in your Hearts and Horns.
Please note that you must speak to Manes by 7:30pm to leave the instance. He will send you to one of the main cities, though not necessarily the one you came from.
If you have not yet asked him about leaving by that time, you'll have to wait inside the instance for the next 20 minutes before being teleported out automatically. If, however, you find yourself stuck in here after 7:30, you can relog and you'll end up in a randomly chosen major city.
So good luck, and may the best man (or fish/beast/elf etc) win!