Hey everyone!
On a lighter note…wherein the gaming society that at one time one man commits embezzlement for a mere $5,000 and one man pays $17,500 out of pocket for a NES cartridge game.
No, you are not seeing things, here is the original blogpost at Video Game Price Charts.com, and the follow up article on Yahoo's Plugged In.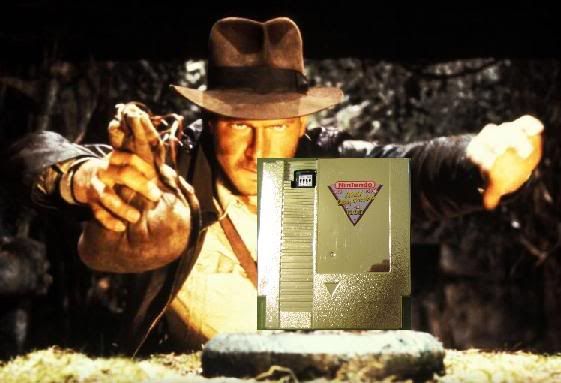 The collector JJ Hendricks contacted a seller on Ebay that had originally posted it at $25,000, when contacted was brought down to $17,500. After some deliberation and a little bit of jerking around the seller finally delivered the goods to our hero Hendricks via fedex. This game is one of only 26 made in 1990 by Nintendo and only contains three short segments from other NES games: Super Mario Bros., Tetris, and Rad Racer and has a time limit of just 6 minutes and 21 seconds that is used to score performance against other players. I've heard of this game before in certain circles as the rarest game ever made, but didn't think it would fetch a $17.5K pricetag. This reminds me of an old phrase, "Something is worth exactly what someone will pay for it" which is proved by our investor JJ Hendricks.
GO JJ!
Now before we go into our atticts and rummage around the old box of video games, let's take a look at some other vintage gameria that might add to our goldmine.
Sega Dreamcast
Sega's short term jaunt into the cd disk console market that was released in 1998 can be found for less that $90 on amazon.com, but some of the games are worth money as well. Listed from JJ's site is a short list of 265 of the 325 titles published for the Sega Dreamcast, the most expensive is Half Life that can demand up to $120.00 and the second to that is Under Defeat for $100.00. Described as "ahead of it's time" the Dreamcast faced stiff competition for the Sony Playstation 2, but came with a modem and internet connection installed meanwhile you had to buy that separately as an addon for the PS2. An old article from Gamepro.com had published a list in 2007 claiming the Dreamcast as #10 of the top 10 worst selling consoles of all time. Don't you wish you had one now?
Magic: The Gathering
Not a video game, however no gameophile collectors list would be complete without the "Power 9" from Wizards of the Coasts collectable card game. When M:TG was first released in 1993 they published a set of 295 called "Alpha", in that first set was some of the most powerful cards in M:TG's history. And they are powerful, I have a very good RL buddy with a vintage deck that destroys me sometimes turn 3 if I'm not on my game. In his deck are some of the 'P9's (as proxies, but I saw the real ones in his bankvault), they consist of the cards named Black Lotus, Mox Pearl, Mox Sapphire, Mox Jet, Mox Ruby, Mox Emerald, Ancestral Recall, Time Walk, and Timetwister these cards were only printed in the Alpha, Beta and Unlimited sets. The Alpha Set only printed 2.5 million cards, and only a small portion were the jewel in this crown that is the Black Lotus, one of the most expensive cards in M:TG's history. A mint condition Black Lotus can command a $2,500+ price tag. However they only playable in one format and restricted to one card in a deck, they are that good.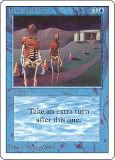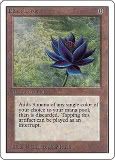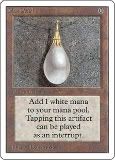 Down payment on a house?
Wizardry 8
In 20001 Wizardry series game developer Sir Tech Software released the last of the Wizardry series and the end to a popular trilogy, Wizardry 8; they closed their doors shortly thereafter. This is a rare find since only a small amount was released briefly before the company went bankrupt, but the Canadian Sir Tech stayed open until 2003. The website is still functional but you cannot download any patches or software, darn. But you can find a European and a NA version on Ebay once in awhile; I've seen offers of anywhere from $90 to $200.00 for a new copy. I read the reviews and this is actually one of the better of the series.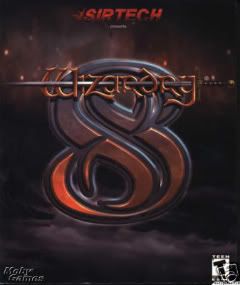 Air Raid for Atari 2600
What list would be complete without an Atari 2600 game? This puppy is one of the rarest Atari 2600 games of all and is currently being offered on Ebay for 5 grand. RUN! Lol. Published in limited supply by MenAVision in 1984, the only thing I can say is that it might be the blue handle that does it?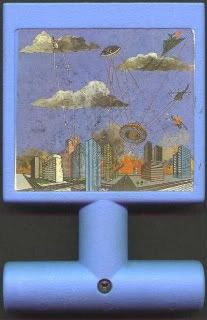 Ultima: Escape from Mt. Drash
And the list wouldn't be complete without a Richard Garriot story, The game was originally written by one of Richard Garriott's friends, Keith Zabalaoui, in Coarsegold, California, for Sierra On-Line, Inc in 1983. Sierra, who had just successfully published Ultima II, named the game an Ultima in hopes that it would sell better. They did this without Garriott's permission – Garriott held the rights to the Ultima name – and due to the relative obscurity of the game, Garriott didn't hear about the incident until much later. Sierra sold enough to break even and buried the remaining copies at the foot of a mountain and the a retailer threw some off a cliff. Due to the dastardly fate of Ultima: Escape from Mt. Drash there is only said to have 13 copies in existence and only 3 are complete. This is why this one is worth anywhere from $1,7000 to $3,600 FOR A CASSETE CARTRIDGE NEVER THE LESS!
There are many more out there and you can look at the comprehensive list at GameSnipe.com , who I would like to thank for a bulk of this information. So look in your attic and rummage through your uncles basement, there might be gold in them thar hills!
If anyone knows of another rare game, or actually owns one, let us know.
Thanks for reading, it's good to be back.
Play safe,
Ink