To be, or not to be, that is the question:
Whether 'tis Nobler in the mind to suffer
The Slings and Arrows of an outrageous Guild Leader,
Or to take Arms against a Sea of Trolls.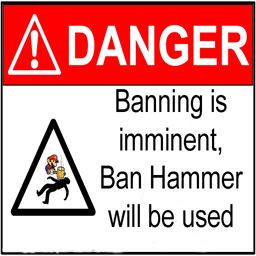 Dost thou wishest to be a bad guild leader? Then Abandon all Hope Ye Who Readeth this Blog Post!
10) Thou shalt believe in double standards!
What is goodly for the goose is none to well for the gander. As guild leader you can make your own rules and break them at will. If anyone breaks those rules then you may smiteth them with the bannheimer!
9) Thou shalt be unsupportive of new members!
Separate them with dual classes of thou elites and non-elites and treat them as sucheth so! If they do not liketh these labels and not an elite then they must leave as they are not elite, they are less than!
8) Thou shall giveth people no say!
It is thou inner circle of cliqueshness who maketh thou votes. If not in thou clique then they haveth no say!
7) Thou shall overreact if someone challenges your rulerness!
If someone does not boweth down to thee, then smiteth them with the bannheimer! Showeth all yonder underlings who is thy boss!
6) Thou shall not be open to suggestions!
How dareth thee who does not belong to thy high-exalted-mystic-guru level then they are trivial fools! If thy idea in question is better than thy own, then thou my stealeth thy idea and take credit! For you are thy smartest of all thee underlings!
5) Thou shall do drugs and brag about it in thy verbal chat lines.
Thou must braggeth to all thee underlings how much pot thy smoke, because to do drugs is cool! How dareth thee question thy brain cells as the whole world does drugs. Right? Right.....?
4) Thou shall be immature!
It doth not matter if governing thou underlings who are 20 years your senior. For your are thy one and only high-exalted-mystic-guru and for what you say is LAW! If thy does not liketh thee, then thou shall get thy bannheimer!
3) Thou shall not have to endure constructive criticism!
For you are the high-exalted-mystic-guru of all MMO gaming and knoweth all. How dare thee trivial wormly underlings criticize your greatness! Thou shall giveth thee bannheimer.
2) Thou shall giveth long-winded drawn out speeches and mandatory meetings!
Thou shall runneth thy guild as a company and promote people to officer who are thy neweth members and not groweth from within! For you know all as high-exalted-mystic-guru and absolutely no one is as smart, sexy, cool, debonair, experienced, educated and all around great as you are, you are thy boss of all and must let all thy underlings knoweth thee greatness. For you are thy leader of an MMO Guild and can put it on a resume. You can rise above the normal man with thy clicketh of mouse and keyboard. Rise above, THOU SHALL BE A KING AMONGST GAMERS! You can rule the world one MMO at a time,
1) Thou shall be a sneaky, underhanded and pompous a&#.
For you are thy high-exalted-mystic-guru who knows all, sees all and are the elite amongst elites. Thou must separate thyself from the casual scum of the earth for you are an MMO GUILD LEADER and the most important person in the world.
This is for you Loli, you will make a great guild leader one day because you care about people more than yourself and a game.
Love,
Inktomi