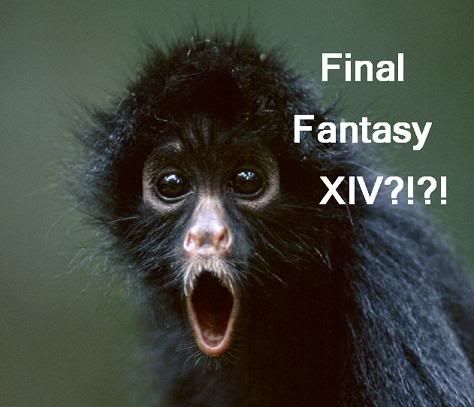 Hey everyone!
I hope everyone has enjoyed this E3 week so far, it's been fun to sit, watch from a distance and read all the announcements coming from the other side of the U.S.
I was especially surprised when I read about the new FFIV Online game that (allegedly) is going to be PS3 exclusive and also for the PC. Being a longtime Final Fantasy Fan and also a FFXI veteran I feel it is my duty to play this game. I've read alot of posts about 4GET AION FFIV WOOHOO! This doesn't change my strategy, I'm not easily thrown off of my course because someone puts an oasis in the distance. Then it occured to me...
How the hell am I going to play all these games? Worse off, how the hell am I going to pay for all these games and if they are "exclusive" titles, means I have to buy the console and AHhhHHhHHhH!
How much is this going to cost me?
So I broke out the calculator and added it up.
$3,170.00
Or $265.00 a month spread out over a year, that's a small car payment.
I could break it down but I'll just sum it up to the cost of 3 consoles, extra peripherals, software (games), xbox live gametime, monthly subscription to the 3 (only 3) MMO's and expansions plus tax. This is not taking into the effect of the time I'm going to be spent playing, reason being this is only a hobby and noone takes off work to play video games. Right? ... Hello? ... Am I alone here?
The good part is that that number is spread over the course of a year, starting from today, this weekend I'll be on the Aion Beta (THANK YOU MMORPG!) which is free and monday starts my Vangaurd subscription.
FFIV will be played, no doubt about that, but I also realize that there is alot of games I want to experience and will let you in on a few.
1) Champions Online: $60.00 and I'm going to give Bill Roper one last good 'ole college try. It gets a 3 month sub off the bat.
2) Aion: Will it be the wow-killer? No, but will keep Team Blizz on it's toes. $60 + 3 Month Sub.
3) Dragon Age, Origins. Don't want to hear it, it's going to be that good. $60.00
4) Assassin's Creed 2: Big fan of 1, $50.00 - $60.00
5) Jumpgate Evolution: Looks fun, but will have to blow me away at the beta.
6) Insert either Diablo 3, Starcraft 2 or dream game here. It depends on what get's released first. 60 bucks.
So, just from now til the end of the year I'm dumping roughly $400.00 into my "hobby" and in the world of hobbies that really isn't that much. But what about the people that these games are originally aimed at, the 7- 17 year old that is still in school, without a high paying job and an allowance. Well, the obvious answer is the parents, right? Now as a parent, I am just saying...I bought the xbox AND the ps3, my daughter got her wii so we could balance it out that she didn't get a resentment to her brother. I bought them every game he wanted that came out AND I pay for his wow card every month.
"For that money, I could be driving that ( insert dream car or boat here ) and be they'll be happy with one game like I was when I was a kid", a good father would grumble to himself as he rides the train into his 9 to 5 job in the city. Noone said having kids was easy, but what about dad's hobbies, do they go to the wayside?
Seeing this recent flood of interesting titles has the gamer in me, the little boy that eyes lit up when I unwrapped my Atari 2600, jumping for joy. However, as an adult that has to plan, balance his checkbook, pay bills and budget it all out, I cringe and wince.
This is where the Gamer Society comes in, where we need not sloppy opinions fast to bash or preening "fanboisms" that just want to people please. We need a core group of honest players that are going to get on these games and put them through rigorous testing while keeping costs down; writing honest and indepth reviews are important but also keep the economic sence to it. Finding the best deals and ways to cut costs for the working parent, the recent college graduate and the budget gamer all in mind.
Is anyone with me, any ideas? Thoughts, hopes or vomits? Or am I alone here again?
Talk to me,
~Ink