My answer is: yes, but contains a lecture. I am sorry but are you ready for it? Ok great! Please grab a pen, sit down and get comfortable.
In a recent forum post someone asked if buying NCsoft stock was worth buying. Being a stock market veteran I quickly gave some information that I felt might have helped this person. Much to my surprise I was met with angry, belittling and withering responses, it quickly made me angry. And it takes a lot sometimes to make me angry, so I called an old friend who is a research analyst that covers software companies; talked for almost an hour and we went over some of the more popular names in the industry. What exactly is a video game company? They are software and programming companies in the technology sector of the stock market. In my opinion and the opinion of many professionals such as my buddy, the technology sector is one of the more risky parts of the market to invest in.
These types of situations that involved buying into a company on anticipation that a certain product is going to earn them a tremendous amount of money is something called "story stocks". You're buying into the story that they will be the best, kick butt and take names with their newest widget (generic term for product). Each company out there performs a service or sells a product that will make them money, more money means the company is doing well and the stock grows. Which means you're betting on that product/service and also the guys running the company? The closest comparison is gambling at a casino; you hope that the next card is going to give you four of kind and you will win. This in turn makes the stock market seem like a legalized casino, 'nuff said.
Go Blizzard, Go!
Let's take a look at Good 'ole Activision Blizzard, this is the combination of two successful brands come together to form one, they trade under ATVI. In recent announcements the CEO and co-Chair sold about $60 million in Activision shares last week anticipating Gamestop's earnings fumble. In my opinion that was a smart move and even smarter: last October they initiated a stock buyback of 1 billion dollars that show give them estimated 125,000,000 shares when the stock was around $8 and now it is $11+; that made the company roughly $375,000,000 profit alone. See how this works?
Acti-Blizz has a great product pipeline that consists of two very successful franchises, Guitar Hero and World of Warcraft are the leading breadwinners for the company that seem that can do no wrong. They have many games in the pipe such as the new DJ Hero and the greatly anticipated Starcraft II series and also has Diablo 3 coming farther down the line. Right now you would say to yourself, "Hey, how can I go wrong! They made a $189 million dollar profit, reaffirmed '09's earnings and Diablo 3 is going to be a killer!"
Again, this is all centered on technology and environments are always subject to change.
RISK
Your need to know your risks and how much money are you willing to risk to make more money; that's the law of the west. I am not going to sit here and give you a lecture on Investing 101, with the average video gamer age in the US being 33 I feel that the larger part of this audience knows what they're doing with money or knows how to find people that do. What I will say that if and when I did buy Activision-Blizzard as a stock…
1) It wouldn't be the only stock I would own,
2) I wouldn't put my whole life savings into it,
3) I would buy a little at a time, not all in one shot; I would use a technique called "Dollar Cost Averaging."
If you do let's say you decide to buy NCsoft that trades in Korea under the presumption that Aion is going to be the next HUMONGOUSGAMEZOMGITKILLEDWOW. It might or it might not, be ready to take a risk and be ready to lose money. Because you are betting on one card from one dealer to win one type of hand, anyone who plays Hold'em can identify with me.
Quote myself: NCsoft isn't a bad stock and hasn't been for a while; I think you have the right idea, Aion is going to make the stock go higher. It probably will but just be careful, anyway I hope this helps.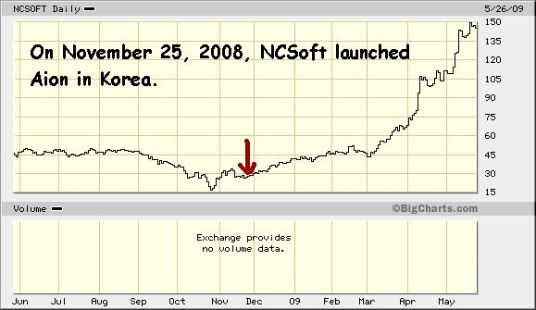 Now let's take a look at another picture that isn't so pretty, it's Take-Two Interactive; trades on the NASDAQ under TTWO. In a recent article from Gamasutra the company commented on its recent second quarter earnings announcement…
The company saw its second fiscal quarter revenues more than halved at $229.7 million, compared to $539.8 million for the same period last year when the game launched -- Take Two's second quarter ends April 30. The company also saw a $10.1 million loss during the quarter -- last year, it reported $98.2 million in income.
They also delayed two games until 2010, now if you were betting on GTA IV holding up sales and continuing on being the best thing since sliced bread then you might make money, the stock is up 14% this year to date. But you are taking unnecessary risk and not seeing as much reward, Activision-Blizzard is up 21% year to date so far. The fact is you could have made more money with Activision than Take-Two, but you are taking the same risk with your money, do you follow me so far? You are putting one company in one hand and one in the other, your measuring your risk against your reward for both and hopefully getting the better one that will win.
Talking about investing and Take-Two, recently billionaire investor Carl Icahn has taken a 2 million share position in this company. He is currently owning 2.5% of the company and has been known to create situations that led to companies he has invested in to being bought out by another. This was on the heels of a failed takeover bid by Electronic Arts, he might have something up his sleeve for Take-Two.
Investing in Pizza.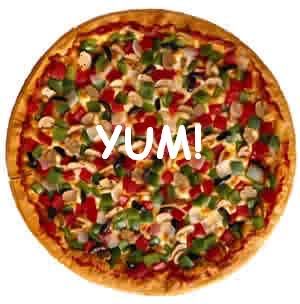 Ever open up a pizza pie box right before you were going to sit down and scoff up a few slices?
And see the biggest slice that you are trying to get your hands on, on the other hand in the bottom left corner; you see that one tiny slice? The runt of the litter you can call it, the one your little brother is going to get stuck with. That should be the amount of your entire investment portfolio that video game stocks should consist of, just that much. What is a portfolio? Consider your video game collection and all the different types of games such as RPG's, Shooters, real-time strategy and of course MMORPG's; that is your own personal portfolio of games. I hope you don't have such a small collection and you play just one type of game. That would be boring.
Anyone should, and I repeat should have many different types of investments, ranging from Real Estate and Government Bond to Common Stocks and even in the private equity market. (That's for another story) "Don't put all yer' eggs in one basket", your father always told you. Well he was right. Make that little slice: Video Games and that bigger slice (talk to your own broker for this one, J)
Speculate, the scrabble word of the day.
If you want to invest in video games companies, buy a couple of different ones, not the one that you think is going to be the next ZOMGWOWKILLERLOL! Cut that little slice in to smaller slices and invest because in a few years this company will have grown and so will your bank account along with it. These are all growth stocks that are the riskier of the bunch and the tech market is still growing. I feel that the video game market is in another expansion phase and consider that more people play video games than watch movies.
In my humble opinion I feel video games, preferably the online type may grow faster than all other types of entertainment. Farther out I feel that TV and the internet may merge to combine the ultimate in interactive TV, picture being able to actually interact with actors and actresses such as interacting with NPC's on a quest line. That is my form of way out speculation on the future growth of the MMORPG.
According to Eric Sweeney, Epic Games founder who told Gamasutra in a recent interview that video games will have picture-like quality in 5-10 years. Now wouldn't you want to have bought a company that is pioneering this Next-Gen Technology from its' infancy stage? Imagine buying google's stock when yahoo was the number one search engine. That my friend is the type of speculation which has driven men to take chances from all the way back to gold rush era. Investor's young and old, we are all just speculating on who is going to be the next big, big, BIG thing. Many investors dream of owning that stock, it takes off on a one way ticket to the moon and make someone into a millionaire. So…
Grab your dice and play safe,
~Ink