I did it, I finally did it.
After much deliberation over the months that the Darkfall saga has been unfolding. I have watched Youtube videos, live streaming gaming and read countless threads. I finally took the plunge and logged into Darkfall tonight.
I watched a few fellow bloggers take the deep dark road into Darkfall Online. Almost all of them came back satisfied. Why did I wait? I simply was leery because of the venomous reputation the game had and the fact it had no trial. If you wanted to play DFO, you have to drop fitty bucks.
Call me cheap, but I didn't want to risk it on, "what if it is really as bad as they say it is?" Not that I follow EVERYTHING I read, but when a few established bloggers dedicate their focus to one game. Either by endorsing it or makes it their fulltime game, it says something to me.
That's right, I'm talking about Paragus and Syncaine, author of Hardcore Casual. I want to thank you both for your help and support, even if it took just answering a few questions. It helped a lot. And yes, I did order the game through Syncaines blog, because he answered a few questions for me honestly and I believe in "tipping the house." Its good to do.
So, here is Agon in all its glory. Getting a--raped by goblins on the outset, I had a good laugh. But it also made me realize just how unforgiving DFO is. When I died I lost EVERYTHING. It was not much, just some cheap goblin loot. But it made me realize just how serious this PVP is. You die, you lose. Its that simple.
The skill system is going to take some getting used to. And the GUI took me at least one hour to navigate and fix to my style. Thats when I turned the tables on those poor goblins and handed in my stuff, I'm getting ready for my next session as we speak.
I realized right away what type of game Aventurine was aiming at. A sprawling, no nonsense, open ended, open-MINDED game. Don't expect easy street here. You get in exactly what you put out, you've got to play smart here. In 22 some odd hours I become open game. After I lose my "newbie-shield" I'm going to be bait for all the gankers and hardcore pvp'ers on the server.
I'm so excited.
The Bad News
So far the game has had some technical issues: blackscreen crash, error at installation and I was stuck at character creation for awhile. I sent in a ticket and the response came rather quickly, but it just told me to hit the next button. That I did eight or nine times. Minor setbacks.
The GUI is a little clunky, but workable. I just had to take my time and go through the menu options. Simply rebound some keys and I had my old Oblivion setup at my fingertips, it felt just like old times. I do have some complaints about the GUI, but they are not worth whining over.
Very PCU demanding game. Holy smokes! I turned my shadows off and lowered some settings and it ran fine. I had some lag, but it wasn't a gamebreaker. I've had worse.
Starting out: All you get is a 6 page tutorial and a slap on the butt. You are on your way to greatness! Absolutely no tutorial and thankfully there is an experienced and helpful community. I asked a few questions in racial chat and someone actually had some answers on demand. The community is very vibrant, friendly and outgoing, so far I haven't seen any spammers or seen any jerks in chat. But thats actually good news.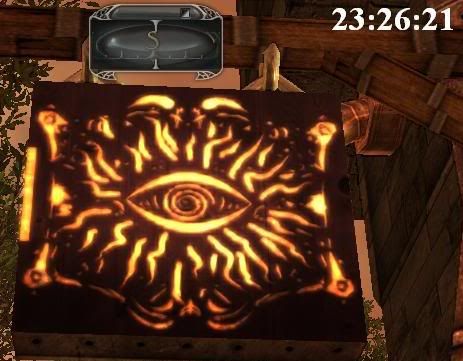 Tick...tick...tick....
The Good News
Its fun. I really had a good time scooting around with the goblins. The AI is trifle annoying when they run away or gang up on me, but there is an actual AI pattern here. Not the mindless "stand in front of me so I can bop you." It was the most challenging early experience I've ever had in an MMO. Apart from EVE, but EVE gives you massive tutorials on the outset. I think I've been spoon fed too long.
Graphically: There is a certain edgy, gritty and dark style here. I noticed it right away. DFO doesn't have miniscule details or the glittery saturday morning cartoon style, but it sets the ambiance of a dark savage world early. You are definately not in Kansas anymore. I took to it right away.
DFO feels totally customizable between its window positions and key bindings. I know macroing is illegal and such and such. I won't do it, but I feel having at least something I can use to switch weapons or equip certain items would help. There is a menu for that. I think? I need to play around with the tough GUI more. Oh and by the way, the character creation is not totally bland as people say that it is. Don't expect Aions complete mutateability but their are some cool looks to be made. Its not about having a pretty character here, its about having an experience.
Hey, they started a 1$ dollar trial. Thats what sold me! I don't look at it as $1 for a week of Darkfall Online, I look at it as free and if I decide to own then I just spend $51, I get 37 days before a $15 payment. Thats it. No item shop nonsense or paying for additional content. You get what you pay for and its not a low quality game either. After a 3 hour torrent and just 15 minutes install. It updated right away, with some minor hitches but seamless for the most part. I was in the forums and did read many technical issues posted, all sounded like graphic problems though. I just hope they don't charge for expansions, that will suck.
Ok, so far the good outweighs the bad on first impressions. But I'm certainly not looking at the uninstall button. Darkfall Online has a certain style and it will certainly attract a certain type of mmo gamer. But its only been about a few hours I've been to Agon and time will tell. I have a week to pull the plug.
DFO is not the hand-holdy type of game, but I think that this industry has made hand-holding part of the norm and players come to expect it. Some will respond to this no-nonsense approach and some won't; its going to come down to personal taste. But its made one hell of a first impression so far.
Play safe,
Frank