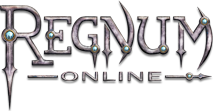 Not a bad for a free game if you like playing a fantasy version of capture the flag.

Stats

Origin: NGD Studios, Argentina

Free: Yes, with premium service and Item Shop

Wiki: Yes

PVP: Yes

Active since: May 24,2007

Short description: Small Active Community

For the 8.5 hours I played I was quite please with the fact that I didn't need to spend $1. The community was fun, active and engaging. The map was large, open and explorable although the mobs were duplicated too much. This game surprisingly has room for a considerable amount of immersion and even could favor the secret roleplayer in you.

Functionality and Ease of use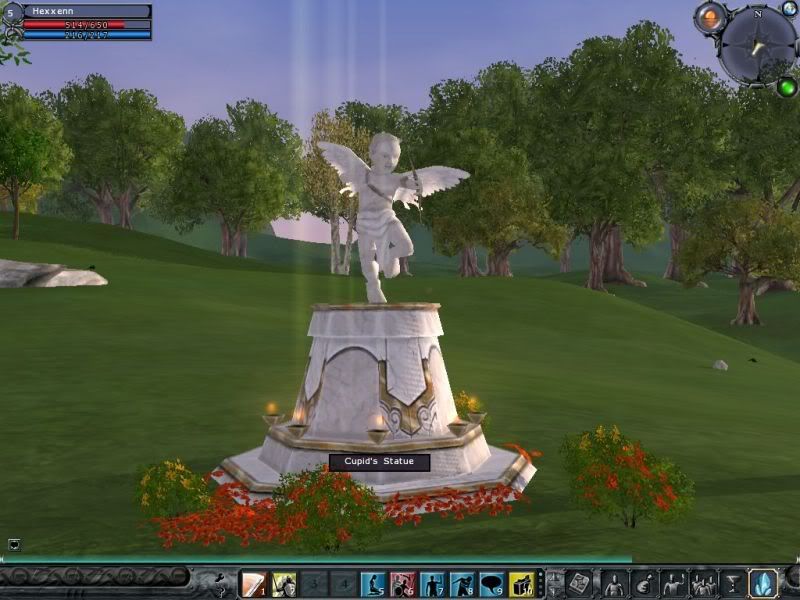 Technical support: A
Ease of use: A
Functionality: C
Stability: C

Downloaded ok, needed to open a few ports and it worked fine. Not a big client and the website is easy to navigate through. I was actually smart and sent out an email to customer support. I received one back the next day with a link to the troubleshooting FAQ. I was glad it wasn't an automatic return email.

The server is very laggy and I experience a lot of slingshot lag. Means it will set me back a few feet or motions every time it lags. It feels like a cheap version of groundhogs day and it gets annoying trying to walk down the same road ten times. I crashed twice and had to use the three finger salute to reboot the game, but I was back in the game no problem. Remember, the servers are in Argentina.

Graphics

UI: D

Character design: D

Environment: C

Animation/Avatar movement: F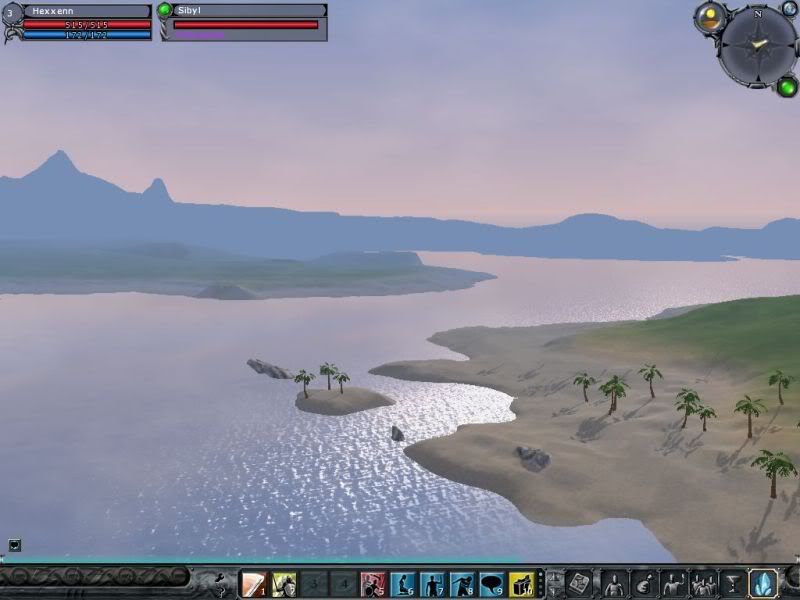 The UI was basic to use the gentlest of words. The navigator/compass only works for premium members and there is no way to customize. Maybe I'm spoiled but there was no easy way to compare equipment. Now how do I know if sword A is better than sword B? I had to switch them out and flip on the character screen to see the different in stats.

Character design was pretty bad. Sorry, I played with the settings all the way up and it didn't help. I saw no difference in any of the emotes and expressions. Movement was stiff, quirky and I thought I was playing a game that looked like it could have run on a Commodore 64. I am not being harsh, just honest.

The good part is that the environment is large, colorful and densly populated with mobs. Most are really just cookie cutter design of either biped, quadruped or insect. The map is big, I did about 2 or more hours of exploring and I was able to move around without a level restriction; enabling me to wander into enemy territory where I was ganked a few times.

Sound

Ambient: D

Interaction: D

Soundtrack: F

No voices whatsoever! The ambient sounds are non-existent and the only thing that
saved a D was that it rained and I could hear the rain. Most of the mobs sounds are the repetitive and similar. I hit a wolf, a bear, a spider, a fish-person-wannabe-murloc it all sounds the same. Actually, all the sounds were repetitive while a lame fantasy soundtrack kept playing in the background.

Turn the sound off and put your iPod on high.

Community

Population: B

Helpful: A

Economy: B-

There is no auction house that I know of and most of the money I made was from selling to the NPC. I did see some trading go through on chat. For chat there is a general tab for local convo and a realm tab for players of your own race. You cannot talk to other players in either one of the two opposing realms or races. This adds up for the immersion and roleplay value.
Actually for the simplest of games it has an active and vibrant community. I saw no spam and it was a refreshing change from the last two games I played. The area I was in wasn't densely populated but there is always something going on in chat. Since this is a game that the main mechanic is PVP it is important that the realm communicates and they do.

Even though I did run into a few people that didn't speak English they were nice and helpful. This is an internationally based game with a diverse community. I asked a few questions in R-chat and got reasonable and polite responses. The most important thing is I could talk in chat and that is something that I took for granted. But now I have learned how to appreciate even more while working on this series.

Gameplay and Mechanics

Gameplay: B

Mechanics: B

This was a very hard category to grade Regnum for. So I gave it a B for Basic and that is exactly what it is. It's not the regular MMO you are playing it for, it's the possibility of the HOW you could play Regnum Online.

Regnum is a PVP game, don't get it twisted. The entire focus is getting high enough level to "hang" in PVP. The wiki says it's 37 but the community suggests 50, the highest level in the game. And from there on it's capture the flag in a large map littered with castles and keeps, split up amongst 3 factions/races/realms.

The three factions have contested areas that you can take over a castle and it gives you faction benefits while leveling there. You can also upgrade a keep you have control over to give it better defense to oncoming attacks. I thought that was interesting enough but it was costly to do so, as it should be. There is many quests to do, so it doesn't feel like a grindfest up front, but I did a little grinding anyway. But it's not a huge part of the game, it's not about leveling here, it's about having an experience while pvping.

After reading the announcements that come across the screen I could tell a certain keep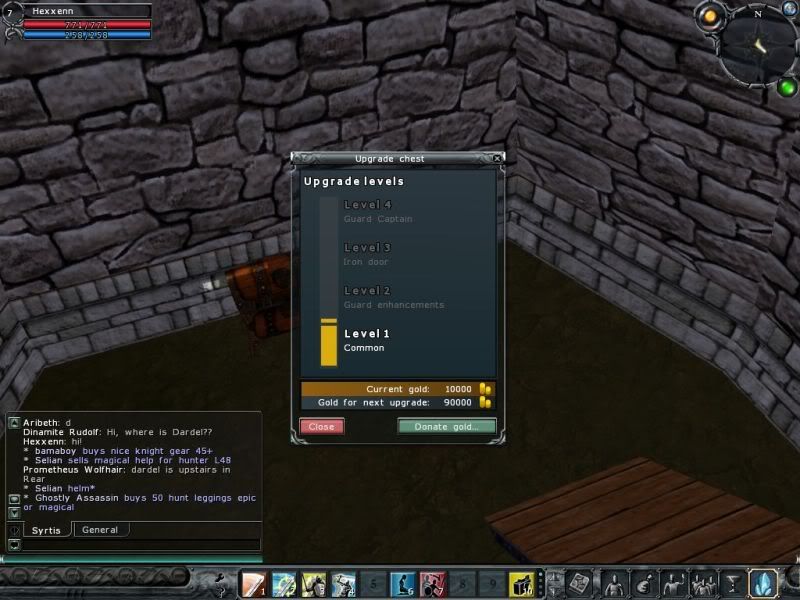 was under constant conflict. So I walked to it where I saw quite a few players hacking and slashing at the opposing players and NPC's. It looked like fun but I didn't last long there, I was only level 6. Heh, heh. The skills you use are simple and is upgradable through a trainer. You can pick from two special schools from your class: Warriors can choose either to be Knights or BARBARIANS! Thunder…Thunder…THUNDERCATS! Don't ask.

Now here's the catch on Regnum's potential. If I was someone who was interested in PVP and was looking for something for an immersive PVP experience or roleplay I would love it. That's what I got off of ROL, not the commercialized raiding and stylized PVP rewards then this might be for you. There is so potential to get into this game with a group of friends and have an immersive experience. It doesn't just give you everything up front like other MMO's do. The navigator is just a compass; you really have to look for quest npc's and areas. The map is simple and yet there are so many things shown on it. If you followed Beau's Immersion Project Rules with a small (or large) group of people I see you having a great time. Don't let my critical opinion sway you, Regnum Online has value and the best part of it is it's free. Which brings me to my next category.

Currency, Subscriptions and Item Shop

What can I say, it's free. Ingame currency is gold and the Item Shop currency that NGD uses is Ximerin. There is a scale involved if buying Ximerin, on the low side you can buy 4,000 for $5 USD and get 800 for a dollar. On the high you can buy 56000 for $60 USD and get 933 for a dollar. I don't ever see you needing that much, but hey, you never know.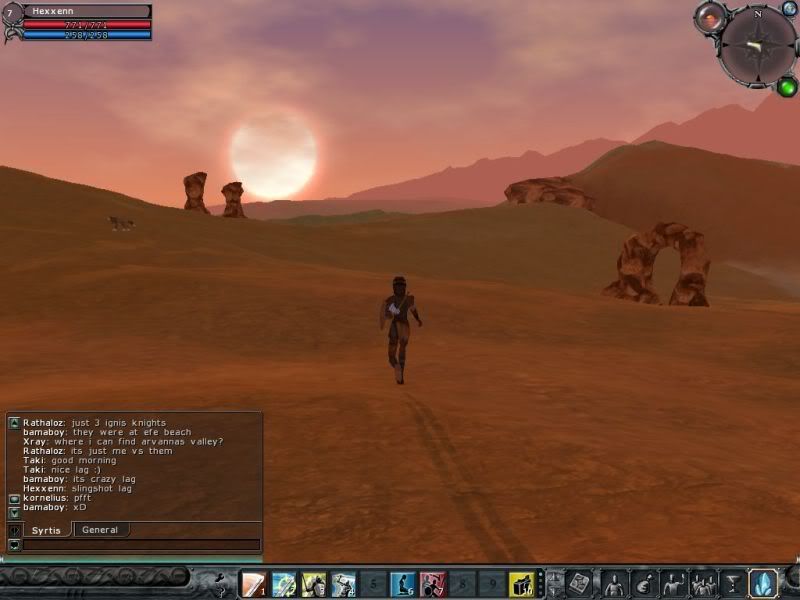 Most of the important premium stuff would be a mounts for $10, that's for you Darren! Everything in the shop is pretty cheap and doesn't unbalance the PVP at all. It mostly cosmetic armor paints leveling aids and potions. Potions as I saw aren't buyable ingame and not that they are a necessity but I was starting to struggle a little bit without potions, but it's not a game breaker.

I could play this game for zero dollars, it would make my experience much more immersive. "When I started out in MMO's they didn't SELL potions, you had to make your own! And the only place to make them was up a big hill where I had to walk in the snow!"

Category grade: B

The Bottom Line

Overall: C

I would be hard pressed to give this game dedicated time in my schedule, this doesn't make it a bad game; just something I would play on the regular. Unless, I was looking for some really cheap PVP or an immersive roleplay experience; neither things that I look for in MMO's but I know there is people that do.

I try to look at games from an objective angle, so objectively I give Regnum Online a solid C. It has things that could make it a great game, but not sure if the company has the resources to implement them. Sadly, it is going to be uninstalled to make room for my next few trials.

Stay tuned because I have been playing Mabinogi and actually started to like it, mainly
why this article has taken so long to come down the pipe.

Play safe,

Inktomi