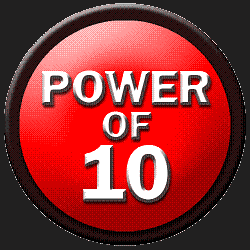 My goal is to try as many of the obscure ones for the one or maybe two undiscovered gems. I predict at least one will end up on my hard drive and may even get me to spend some money in a cash shop. I will be grading all of them and posting a short review for each.
After the ROSE Online fiasco that is still unresolved I turned my sites to the second on my list which was Cabal Online.
Stats
Origin: Korea
Free: Yes, free digital download
Item shop: Yes
Wiki: Yes
PVP: Yes
Active since: Korea 2005, North America 2008, EU 2006
Short description: Action RPG MMO

Functionality and Ease of Use
Technical support: - Not needed.
Ease of use: A
Functionality: A
Stability: A
Category grade: A

I went to the Cabal Online site, opened an account, downloaded and installed it without a hitch. I had to open a few ports and the game has run for about 10+ hours without any seizes or crashes to desktop.
Graphics
UI: C
Character design: C
Environment: B
Animation and Avatar Movement: A
Category grade: C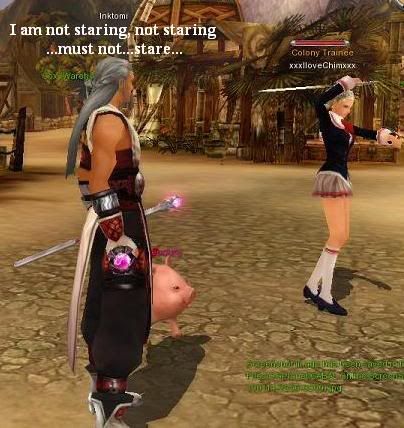 I was actually surprised by the vibrant colors and the layout of the small areas in the beginning stages. The reason why I gave it a B in environment is that it seems that a lot of the background is repeated. You can see 100 of the same trees in an area called Bloody Ice, but I still like the fact that it will send me via teleports to different themed areas. Desert, snow and jungle are the three areas that I was in unless I was in an instanced timed quest, that room was just a cookie cutter four walls, a floor and a bunch of mobs.

Downside, the UI is not customizable at all but very simple. Many small windows showing skills, character stats and inventory. Everything is very readable and workable. I just like a customizable UI to give me extra buttons for my skills. And you do get a lot of skills.
There is strength in the character animations, all are different according to the skill that's used. There are areas where people can beat on dummies and raise their skill points, I watched for a few minutes and was pretty impressed by the higher level animations. There was one where the guy leaped in the air, did a spin and came down in a brilliant blur of color. Very cool.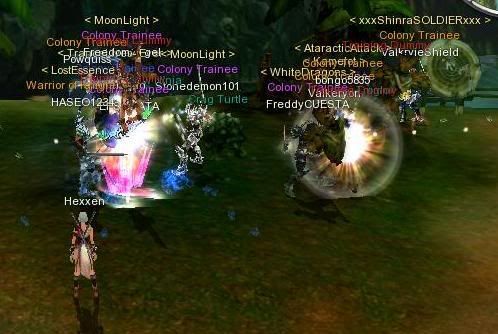 The mobs are basic without being dull. A zombie looks like a zombie and a snake looks like a snake, the details are nice and colorful; unlike older games I have seen where the mob is 2 colors and one animation. These actually have different styles of attacks and you can tell the difference. I liked the look of the game.
Is it as detailed as I seen other games? No, but it's not a horror show and some of the higher level gear and costumes that players wear look great. However, the general design of the base character is very generic and you will start the game as either Plain Jane or Plain John. Your gear and pet is how you're going to be able to discern yourself from other players.
Sound
Ambient: B
Interaction: B
Soundtrack: A-
Category Grade: B
I almost forgot about sound. What I found interesting about Cabal is that it has an OST jukebox on it's website with the theme music for different areas. And it's not bad, mostly alternative rockish sounding and an ambient trance-ish feel to it. A- because it can get repetitive, but not lower than that because it can be turned off very easily. Now if you could add in your own music, that would be a plus.
Besides that the sound isn't bad, nor is it stellar, but not cheezy as I said before.. The background music really saved this category.
Community
Population: B
Helpful: A
Economy: A
PVP: - not experienced
Category grade: A-

What can I say other than people play Cabal Online. After you log in you can choose 2 servers with up to 8+ different nodes to play in. The most populated one was Novice and all the others were populated also. When I logged in I saw other players running around doing quests, grinding (yes, it happens here) and dueling.

There are higher level players that will give out random buffs, mainly because it helps raise their magic skills. This is a nice mechanic of the game that helps everyone, same as in FFXI where you could stand in a hi-pop area and just give out buffs to raise your healing skills. The duelers were respectful and I saw some spam from bots, but it can be turned off and it's not overly obnoxious.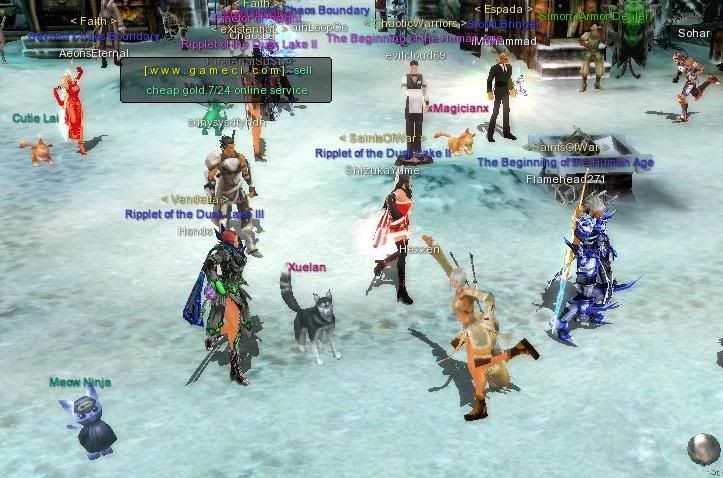 Gold spammer bots is the difference between an A and a B for this category, I know it turns a lot of the western community off, but it is part of the economy. That is functioning and this could be a reason why the game is thriving. Almost all of the equipment isn't bound which makes it resellable. I believe you can bind some pieces to a player, but that is reserved for higher level crafted pieces. There is a crafting and upgrading aspect of this game, by using force cores to pop in certain upgrades to a weapon or armor. Pets are also used and give the owner special bonuses.

As for the pvp, other than duels I haven't seen much but then again, I am still young in the game. I know there are nation wars after level 52 and last for 1 hour every day. There is a main questline to gain access and after choosing one of two nations you can go at it with the opposing nation to give your nation better drop rates and experience in the PVE portions if your nation wins. There is a ranking system and personal rewards given to players who participate for special experience points to use to gain certain abilities. It sounds complicated, but it's rather quite simple. If you are interested in reading more about the PVP, see the wiki and it will give you more information.
Game play and Mechanics
The reason I used those three words earlier to describe it is because it feels like a Diablo II or a Gauntlet type of game. Wait, wait, and wait! Before your head explodes… It is grindy, point and clicky but the way OGPlanet designed it is that the mobs respawn so quickly it can get intense. Once I figured this out I stocked up on pots and marched into an area and was zerged by zombies for 45 minutes with iTunes blasting Armin Van Burren's newest State of Trance podcast.
It was a fun time and I gained a lot of exp fast without feeling the grind. Would I be able to do that until level 100+, I don't know. But there are many different quests and they just pop up in the quest window as you gain levels and finish quests, very simple and to the point.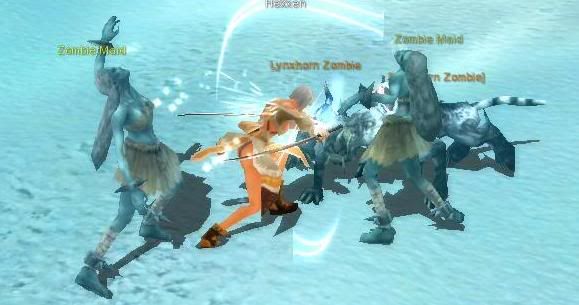 This is a fast paced game, so if you are looking for immersion you might be disappointed. It stays true to its title "Revolution of Action", there is many areas to explore and small instanced dungeons that you can use a special key to gain access to. All of the mobs are closely arranged in small groups around the map that progresses to higher level mobs that are reachable. This seems to be the way these Korean developers designed Cabal.
Let's face it, some cultures like fast pace and no nonsense game play.

The gear setup is simple: armor and weapons are clearly marked according to class and stats to be able to wear it. There are many, many different variations and levels, but most of it seems to progress with your characters levels. Same with weapons, however you can use force cores and upgrades to further customize the stats on both armor and weapons.
There is also an item in the item shop that you can transfer the skin of one weapon/armor over the stats of another. Runes of magic has the same thing, want that really cool blinky blue sword you had at level 20 for you level 80 weapon, no problem!

Now, the skills…

You can buy your skills and swap them for newer ones in your skill window. When you put them into your hot bar though you will use them automatically, even pop potions when you mana gets low. That is a blessing and a curse in some aspects; you will go through pots like no tomorrow. You might use skills you don't want to use if you don't keep up on it, but it adds to the action and pace of the game. No longer mashing multiple buttons for attacks, it will happen automatically.
This mechanic I have a feeling could turn some people off, took me awhile to get used to and didn't find a way to switch it off. While this adds to some customizability of your character, you are what you start out as and there isn't a whole lot of room for uniqueness. But also not a lot of room for error either.

Game play: B
Mechanics: C
Category grade: C+

Cost
The in game currency is the Alz. The item shop currency is the Astro that's translate to be worth .05$ USD to the Astro. Not very steep, but if you want one of these cool Astral bikes, be ready to drop 45 bucks for it. A 30 day premium service give you a lot along with increasing your skill points and experience gain weighs in at $8 a month. $7 under the average sub price and you will level faster!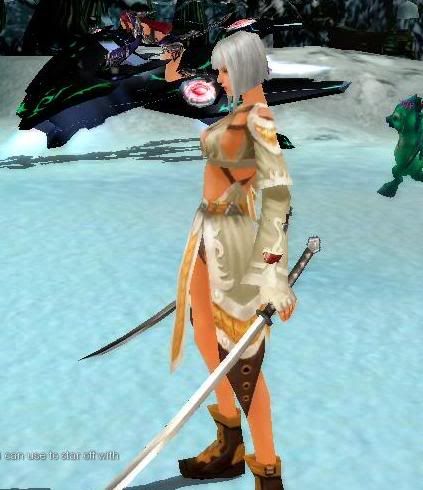 Want that cool Praying Mantis pet? $5. Are you a crafter? Force cores between $20 and $5. Want to role-play a cowboy with your in game girlfriend? Saddle up on a Wild West package for $38.50. Yee hawww!

Granted it all seems expensive, but you can't lose your equipment and much of what I seen is cosmetic. But again, if this game is your hobby and you are ready to work 4 real-time hours to save yourself 30 in game hours, I say do it.
What most item shops come down to is cosmetics, upgrades and MLH's (mommy's little helpers that will save you from grinding your life away).
Category grade: B- (some stuff is expensive but not intrusive, I could play without spending a dime and an $8 sub is cheap.)

Summary
I was actually pleasantly surprised with Cabal Online. It's mind-blowingly simple as the PC Gamer UK described it yet fun and easy to learn. If you like faster pace, smaller maps and bright costumes this could be a good 'tweener' (be-tween the game I'm bored of and the one that's not released yet) for you.
Cabal Online gets to the point and gives you few options with much room for growth. Over 100 levels of grindy goodness making it a nice place to visit but would you want to live there?

The Bottom Line
Cabal Online: B-

I am going to keep it on the drive for now, its fun but we have still another 8 games to preview. Cabal Online has secured its place in the finals but I'm not sure it's a long termer. Only time will tell.
Since we are on the topic of grinding: Tomorrow we get to play Flyff for 10 hours!

Until then…
Play safe,
Inktomi