This is a keyboard.
Full ones have 88 Keys [52 white keys and 36 black keys, but who is counting?] and this one has slightly fewer. Still, it is a fairly standard keyboard, and can be about the equipment expected of most piano players. If I am writing a piece of music for the piano, I can reasonably expect players to have access to this amount of equipment.
This is also a keyboard.
It has an expected 108 Key-Commands in the standard system, and developers can expect gamers to have access to those 108 Inputs, as well as various combinations of them. [Note that in the ASCII system there are not actually 108 physical keys... combinations of Shift tend to account for the other commands, like % or $ or &].
Using the first type of keyboard, with 88 keys, I can reasonably train a seven-year-old to press eight-to-ten of them in a given order, within about six months of their first encountering the tool. Given three years, by the time that seven-year-old is ten, I can now expect him or her to be able to press 35 to 50 of the keys in a logical order, given a few weeks of practice, and including various combinations [chords].
Using the second type of keyboard, with 108 inputs, I can reasonably train a seven-year-old to press about 40 of them in the correct order, according to prompts on the screen, within six months. Given three years of training, the student will be entering complex commands very rapidly across most of the 108 inputs, especially with consistent practice.
With adults, the learning curve tends to flatten. While students are wildly different, if an adult has been playing a piano for about three years, I would expect them to be able to access all 88 keys at rates greater than 140 keys per minute [chords included].
So, here is my question... how many of you have been "playing" MMOs for longer than three years?
I use this roundabout example to get developers to think about what is physically happening when a player is playing a game. Forget the big dragon breathing fire or the space-age missile launcher [which is really just a re-skinned fire-breathing dragon]. What is the player actually DOING?
The player is pushing buttons on a keyboard.
Here's the connection to the music example: If you have been playing music for three years, but are still only allowed by your instructor to play songs with 5 - 10 notes [thumbs on Middle C!], HOW BORED ARE YOU?
As a player participates in MMOs, they become better at MMOing. Of course, players learn at different rates and like different things, but all in all, they gain some knowledge and skills the more they play. The problem becomes that very few games offer a skill curve that allows players to reasonably excel. In your first MMO, this was likely accomplished through the leveling process. You started out with only a few buttons to press, and gained more and more as your character leveled up. Hopefully, if the experience was good one, the developers also put in reasonable challenges [harder sheet music] to encourage you to use more of those buttons. If done well, the result is that you learned without being bored, and got much better at the game. You may not have noticed it, but you probably type faster, and with fewer errors. Credit MMOs.
Now, as a long-time player, you clear those skill hurdles much faster. You probably do not even need the leveling process to guide you through them, or at least would appreciate it if you had access to a full range of skills sooner. Those early levels can be brutally boring now, which is probably a marked difference from your first game, when they were FASCINATING! The truth is that the levels have not really changed... you still have few skills and a very limited scope of available activities. But as a player, you are ready to accept much greater challenges... if you can find them.
Player Learning and the Logarithmic Curve
Almost all human learning follows a logarithmic curve, where learning is graphed versus "experience" or "time spent on learning tasks". It looks like this:
When we first start learning something, we learn it very rapidly. Think of a foreign language. I could probably teach you 20 new words in a foreign language in less than an hour. But in English, which you've likely been speaking for years and years if you are reading this blog... well, you probably don't learn 20 new words over the course of an entire month. That's what the curve is saying. At the start of a new learning situation, knowledge [and skill] is developed very rapidly. Then, it starts to slow down.
So where does this tie into games? Well, if you are a piano teacher, you know that the average student quits after about two years. That's when the learning curve really starts to "plateau"... they must spent a lot of time on learning tasks to gain any real new progress or knowledge.
Here's the connection to gaming: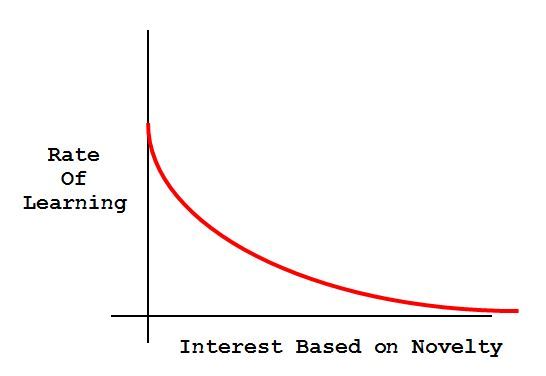 As players learn more about the game and the gameworld, their interest starts to drop. One can make a fairly convincing argument that the genuine interest a player has might be, in the current MMO release cycle, peaked BEFORE a game actually releases. This puts developers at a severe disadvantage when trying to maintain interest via novelty [or having-new-things-to-discover].
What developers often tend to underutilize is exactly what we were discussing above; interest based on novelty tied to the physical aspects of the gaming system. It is not a very uncommon story to hear players tell how "discovering a new spec/class/playstyle" re-ignited their interest in a particular game. This is because they have essentially reset themselves to the left side of the curve, where they had lots to learn, and the rewards for doing so very large, compared to the high skill/learning level they had achieved on a different spec/character/playstyle.
As I said, developers do not tend to provide opportunities for players to really challenge themselves, physically, at a keyboard pressing buttons. I noted in my last blog that there is currently no game in existence or development that seeks to market itself solely to non-novice players. In essence, in the world of MMOs, we have hundreds of games that are "Piano For Beginners : Lesson Book #1", and nobody has ever published Lesson Book #2, Lesson Book #3, or even a decent recital piece.
Next time, I will discuss two statistics that attempt to quantify the physical experience of the player [their interaction with the keyboard, not the game world], and explain how a developer might use them to appeal to different playerbases.
Have you noticed your interest in a game decrease as your skill level in that game rises? Tell us about your experience!
Have you ever "Mastered" an MMO [or a console/PC game], and if so, what kept you interested after you attained that very high skill level?