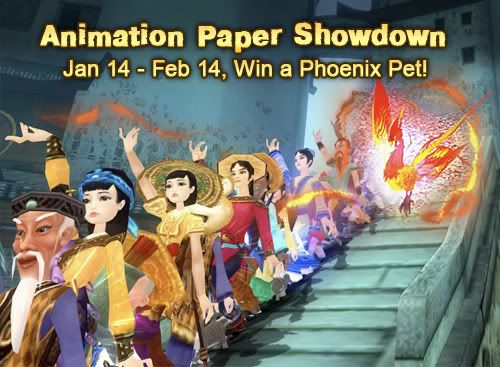 Zentia has a neat little feature where you can animate your player using an item. You can choose an animation for upper body, lower body and all other sorts of things. Needless to say, you can create some very goofy animations for your character.
The Zentia Team challenges you to make the wackiest, most hilarious animations you can! We are giving out Level 8 Animation Paper codes in the Jan Newsletter and on the forums. We want you to make your best animations and submit them as a video! Top 5 winners will receive a Red Phoenix pet which is a 6666 exemplary pet. All who enter this competition will receive a gold chip! Go out there and get animated! If you are new to the game and haven't received a code PM Katealyst on the Zentia Forums.
We have already had a ton of great entries and the contest has just started! Here are some of the entries, can you beat them?
1. Itz_Ruin's Video
2. LeiFang's Video
3. Avandar's Video
4. Darkendsoul's Video
5. Justaoldguy's Video
6.Stef-poke's Video
7. Gedatsu's Video
8. Ikke715's Video

Keep on gaming,
Zentia Community Manager